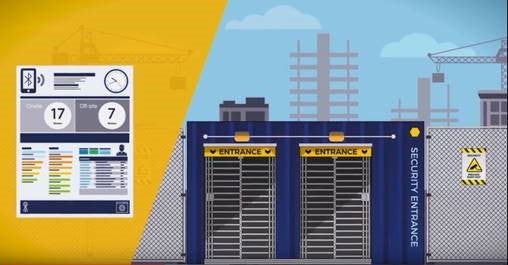 CrewSight is the leader in site access control, time and attendance capture, and workforce management. Labor costs can contribute up to 40% of total project costs. For construction managers it means they need to have total confidence in the sources of those costs.
That is why Trimble created a flexible and scalable system that is easy to deploy and use at construction work site. Access control security system Trimble CrewSight lets you track personnel who have entered the site. This system lets you not only control worksite safety, but it also lets you monitor skills, qualifications and clearances to reduce safety concerns. When used in conjunction with mechanical access control, system assures that only authorized people are on site. Depending on the needs of your work site, Trimble CrewSight can be tailored to meet your individual requirements and give you more options to improve your cost-cotrol.
Trimble CrewSight can be connected with Trimble Prolog, which maintains tight alignment between field and office workers, and optimizes work processes. With Trimble CrewSight, project leaders can have confidence that crews with the right skills and proper clearance are working on the project, clarity on how much time is actually required to complete a job and information on what zones of the site crews are working.
Trimble CrewSight Labor Tracking System