Trimble XR10 with HoloLens 2
The Trimble XR10 with HoloLens 2 brings mixed reality right to the front line, enabling workers in safety-controlled environments to access model data directly on site.
Together with Trimble's suite of mixed reality software and services, the device enables new field-oriented workflows to leverage 3D content in daily work tasks to improve efficiency, productivity and quality of work. The Trimble XR10 is tailor-made to bring state-of-the-art mixed reality to where your work gets done.
Designed with the field in mind.
Sporting a wider field-of-view, improved usability and a unique, flip-up viewscreen, the Trimble XR10 makes mixed reality work for you. The Trimble XR10 will have all of the same technical benefits of Microsoft HoloLens 2, learn more.
Leveraging the cloud-based collaboration platform, Trimble Connect for HoloLens, workers are now able to realize the true value of their constructible 3D models and existing workflows in Tekla, SketchUp, Revit, SysQue, IFC and more.
---
Save time by efficiently visualizing, conveying and interacting with complex 3D data
Add context to structural data and geo-referenced assets by overlaying them onto the real-world
Collaborate with remote stakeholders to more effectively communicate design intent
Increase engagement and buy-in among diverse stakeholders
Mixed Reality Workflows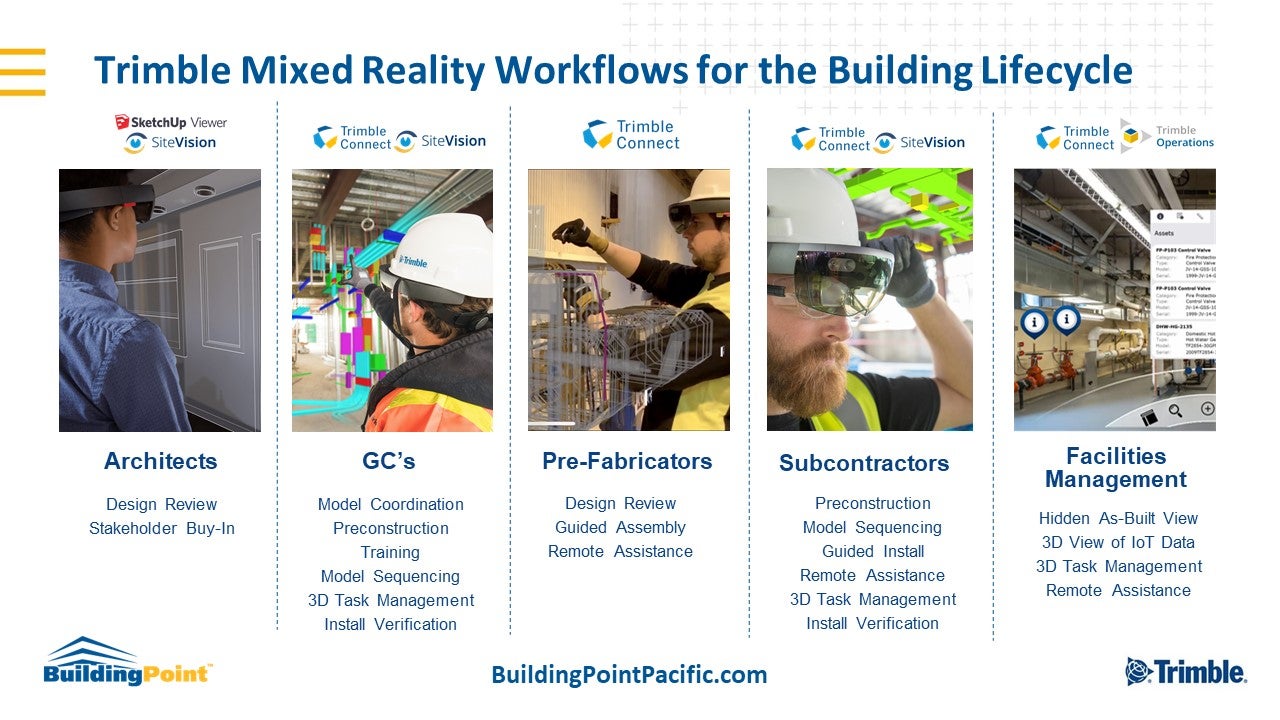 ---
Mixed Reality Applications
Trimble's suite of mixed-reality software provides enterprise customers in architecture, engineering, construction, mining and utilities the ability to transform their work with spatial computing technologies.
Trimble Connect
Trimble Connect for HoloLens utilizes mixed-reality technology to take your 3D content off the screen and into the real-world, providing project stakeholders with enhanced 3D design review, coordination, collaboration, and project management processes.
Built on the cloud-hosted Trimble Connect collaboration platform, Trimble Connect for HoloLens is going to change how you think about 3D.
Available for free trial in the HoloLens App Store, Apple App Store, and Google Play.
---
SketchUp Viewer
Step into 3D with the SketchUp Viewer and see the project in its environment. The Viewer app for HoloLens enables you and your client to experience your project just the way you would after construction. The truer the experience of a design, the better you can understand and communicate it. SketchUp Viewer brings you into your ideas and allows you to experience them like never before.
SketchUp Viewer empowers you to design better buildings—wherever the work is happening
Available today onHoloLens, iOS, and Android. Contact us for premium version on HoloLens.
Learn more at sketchup.com. Download SketchUp Viewer for HoloLens. Also available for iOS and Android.
---
Trimble SiteVision
Trimble SiteVision fuses cutting-edge augmented reality technology with Trimble Catalyst centimeter-precision GNSS to automatically bring your 3D designs off the screen and onto your site. From buried utilities and planned infrastructure to cut-fill maps and architectural designs, SiteVision is shifting the paradigm on how professionals interact with their 3D data.
The Trimble SiteVision Early Engagement Program is now at capacity, but please register your interest to keep up-to-date with future SiteVision news.
Learn more at Trimble.com
---
Trimble PULSE Remote Expert
Trimble PULSE® Remote Expert is an Augmented Reality collaboration tool which improves the productivity of field service technicians by connecting them with subject matter experts via video, audio and spatial annotations in real-time.
This powerful application improves first-time fix rates, productivity, and overall customer service experience by providing technicians real-time assistance when faced with complex or unfamiliar situations.
Learn more at TrimblePulse.com
---
Trimble XR10 with HoloLens 2 pre-order
Start a conversation with BuildingPoint Pacific about the Trimble XR10 with HoloLens 2. A mixed reality specialist will contact you to provide more information.
Frequently Asked Questions: