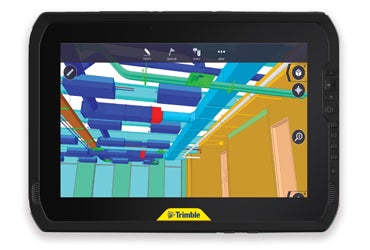 The Trimble T100 Tablet gives a single device solution for powerful, efficient data collection and processing for building solutions in the field. The addition of a functional directional pad allows for added ease with instrument control and combines controller functionality with the capabilities of a tablet. The T100's robust processing power coupled with an increased memory and storage will allow for faster collection time, processing time and deliverables to be produced in the field.
Features and Benefits:
Intel® 8th Generation Core™ i5 Processor that handles large data sets, intricate graphics, images, models and other complex or processor-intensive data with ease.
Large 10" capacitive multi-touch with EMR screen that is scratch resistant. This allows for a better user interaction with data as well as better data visualization and analysis.
Internal battery with up to 10 hours of life for a full day of field use.
USBC Fast charger with external battery connectability.
The latest Microsoft® Windows® 10 Professional operating system that supports Trimble® Field Solution applications.
Integrated wireless connectivity options, including Bluetooth, Wi-Fi, 4G LTE, and Cirronet for connecting to Trimble® layout and scanning instruments, including: the Trimble® RTS, Trimble® RPT600 and Trimble® R780.
Integrated functional directional pad to provide ease with control of Trimble® layout instruments.
What Comes with Each Configuration:
Torr USB C to A Adapter
Torr Glass Screen Protector
Torr Stylus and Tether
Torr Stylus Replacement Tips
Torr USB C Power Adapter
International Cord Kit
Torr USB-C Vehicle Charger
FirstLook - Trimble T100 Tablet