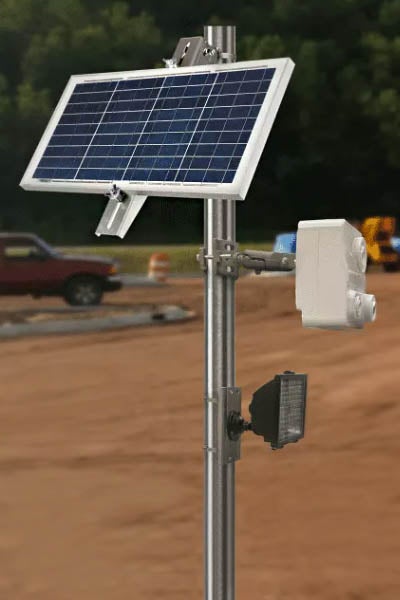 Day/Night Solar Security Camera
Intelligent Remote Site Monitoring
The SiteWatch PRO2 day/night solar security cameras combine thermal, low-light and color cameras with IR illumination, video analytics and 4G LTE communications in one integrated system. This smart camera is perfect for 24/7 monitoring capable of real-time alert notifications (pushed to your email or mobile device). All video analytics are executed inside the camera, and only video relating to actual events is sent to the cloud for archival and viewing. This powerful camera can store up to 512GB or 137 days of continuous video recording so that no incident is ever missed.
Solar + AC in One Compact Solution
Our Solar + AC security camera solutions provide maximum flexibility for ideal system placement and installation whether your site has power available or not. Our systems are completely DIY, requiring no power or Ethernet, and can be setup by one person in 20-minutes. This flexibility also makes it simple to relocate your cameras for alternative progress views or to a new jobsite upon project completion.
AC + Solar security models provide the unique ability to easily switch between power options depending on your needs.
Security Camera Packages Include
13mp color/day camera, 1.3mp low-light black & white camera, and thermal detection camera
512GB continuous recording (up to 137 days)
Outdoor/Indoor compatible enclosure
Includes multi-application wall, corner, or pole mount (other mounts also available)
DIY installation – simple 20-minute, one person setup
Automatic connection over 4G LTE
General Product Specifications
Impact Resistant enclosure with minimum IP66 rating
Powered via Solar Panel (with battery backup) or 120V AC (max 2 amps)
Unlimited simultaneous users
10-Year SiteCloud media storage retention
3-Year warranty
Product Features
Access your jobsite in real-time, from anywhere
Motion triggered alert notifications
Continuous video recording
Tag, annotate and share images
Download images and video locally to your computer
View live and historical weather data