Solar + AC In One Compact Solution
Our Solar + AC solutions provide maximum flexibility for ideal system placement and installation whether your site has power available or not. Our systems are completely DIY, requiring no power or Ethernet, and can be setup by one person in 20-minutes. This flexibility also makes it simple to relocate your cameras for alternative progress views or to a new jobsite upon project completion.
AC + Solar models provide the unique ability to easily switch between power options depending on your needs.
---
Pan Tilt Zoom Cameras
The PTZ600 camera is designed for advanced user remote site monitoring including progress documentation, safety applications, and productivity and logistics management. Ideal for large-scale sites requiring a wide coverage area and fine detail, this powerful camera provides three important new capabilities: multi-location time-lapse, automated panoramas, and live streaming with real-time PTZ control.
---
FIXED CAMERA PACKAGES INCLUDE
6mp, 8mp, or 13mp 4K camera
32GB, 256GB, or 512GB Continuous recording (up to 137 days)
Outdoor/Indoor compatible enclosure
Includes multi-application wall, corner, or pole mount (other mounts also available)
DIY installation – simple 20-minute, one person setup
Automatic connection over 4G LTE
Free domestic ground shipping
GENERAL PRODUCT SPECIFICATIONS
Impact Resistant enclosure with minimum IP66 rating
Powered via Solar Panel (with battery backup) or 120V AC (max 2 amps)
Unlimited simultaneous users
10-Year SiteCloud media storage retention
3-Year warranty
PRODUCT FEATURES
Access your jobsite in real-time, from anywhere
Automated and custom time-lapse
Continuous video recording
Tag, annotate and share images
Download images and video locally to your computer
View live and historical weather data
---
Stunning Image Quality
Our cameras produce professional grade images and video at a surprisingly affordable price. Our 4K time-lapse videos have been featured in national commercials and in project portfolio marketing by over 1,000 of our general contractor clients.
---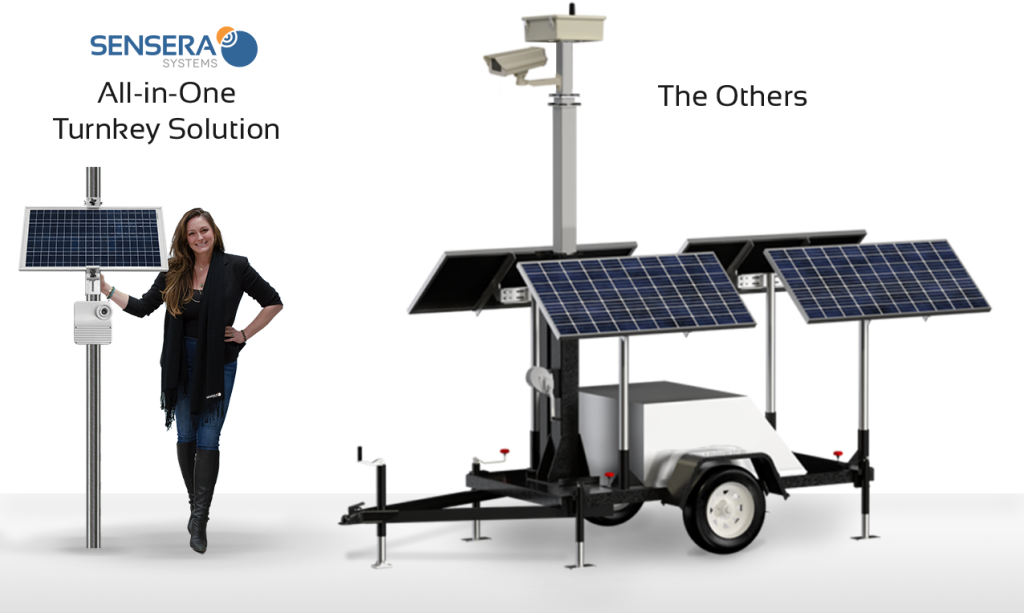 UNIQUE TO SENSERA SYSTEMS
Compact Solar
Our camera systems are the only compact solar solutions in the industry. Our patented low-power technology enables our systems to operate on either solar or AC power in the same small form factor. No additional power or battery box, or large solar power arrays required. In fact, our cameras can operate for up to 10 days with no power or network connectivity (depending on models).
---
Camera Model
MC26
MC78
MC88
PRO2
Resolution
6MP
(3264 x 1836)
8MP
(3840 x 2160)
13MP
(4224 x 3136)
13MP
(1920 x 1800 day triggered)
(1280 x 960 day triggered)
Automated & Custom Time-lapse
1080p
1080p
4k
n/a
Video/Still Recording (Capacity)
32GB (approx. 8 days continuous video recording)
256GB (approx. 68 days continuous video recording)
512GB (approx. 137 days continuous video recording)
512GB (approx. 137 days continuous video recording)
LiveView Image Capture
No
Yes
Yes
No
Integrated Battery Backup
Up to 5 Days
Up to 5 Days
(10 Days XL Models)
Up to 5 Days
(10 Days XL Models)
Up to 5 Days
(10 Days XL Models)
Applications
Short cycle & Smaller Footprint Projects
Progress, Safety & Security, Any Project
Large Footprint, High Resolution Progress, Safety & Security
Intelligent Security
 
MC26 Details
MC78 Details
MC88 Details
PRO2 Details