See Spot Work!
---
See Spot Stand, Kneel, and Dock
See Spot stand and kneel at a construction job site. Also, see Spot back at its docking station.
---
See Spot Investigate a Cat 966M Wheel Loader and 336F Excavator
What do you get when you combine the state-of-the-art robotics with industry-leading 3D scanners? You get reality capture, a photo-quality 3D dimensional representation of your jobsite uploaded to the cloud with Spot's integrated secure gigabit connection.
---
See Spot Navigate an Office
Multi-directional communication between the Spot, Trimble payloads, and cloud applications support a continuous flow of information in any environment. That means automated inspection tasks and data capture while increasing safely, accurately, and frequency.
---
See Spot Walk with a Cat 966M Wheel Loader
See Spot—the agile mobile robot from Boston Dynamics and now available for sale from BuildingPoint Pacific—walk with a Cat 966M wheel loader!
---
See Spot Bust a Move
Spot has two actuators—the components that move and control its limbs—in each hip, and one in each knee. This creates unprecedented freedom of motion for the robot and grants it incredible agility. When necessary, SpotCheck (a feature on the Spot tablet controller) can be used to recalibrate the robot's joints and vision, ensuring top-notch performance.
---
See Spot Climb Stairs
Spot's base platform provides advanced mobility and perception to navigate stairs, gravel, and rough terrain while collecting 2D and 3D information with on board-sensors.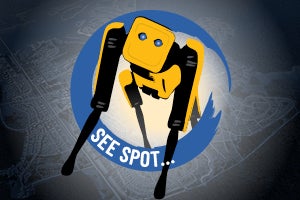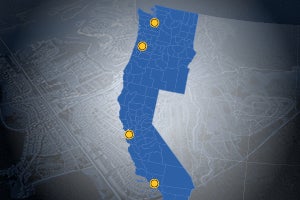 Spot is coming to a city near you!
Anaheim: May 19
San Carlos: June 21
Devil's Canyon Brewing Co.
935 Washington Street
San Carlos, CA 94070
3 p.m. – 6 p.m.
Seattle: coming soon
Portland: coming soon