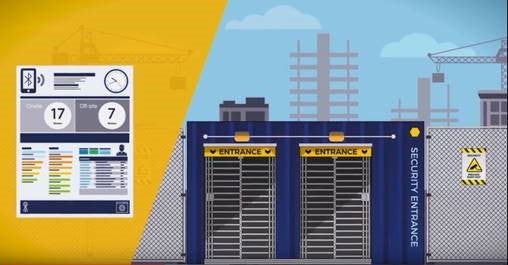 CrewSight is the leader in site access control, time and attendance capture, and workforce management. Labor costs can contribute up to 40% of total project costs. For construction managers it means they need to have total confidence in the sources of those costs.
That is why Trimble created a flexible and scalable system that is easy to deploy and use at construction work sites. Trimble CrewSight is an access control security system that lets you track personnel who have entered the site. This system lets you not only control worksite safety, but it also lets you monitor skills, qualifications and clearances to reduce safety concerns. When used in conjunction with a mechanical access control system it assures that only authorized people are on the site. Depending on the needs of your work site, Trimble CrewSight can be tailored to meet your individual requirements and give you more options to improve your cost-control.
In addition to access control, Trimble CrewSight also integrates with Sensera Systems' jobsite security cameras. Available in both AC and solar configurations, Sensera's cameras provide that extra layer of 'exceptional' to your projects. Whether your goal is to reduce jobsite theft, ensure OSHA compliance, better manage projects from the road, or keep clients up-to-date with site progress time-lapse video, Sensera delivers an affordable, easy-to-use, remote jobsite monitoring solution.
Trimble CrewSight integrates with Trimble Prolog, which maintains tight alignment between field and office workers, and optimizes work processes. With Trimble CrewSight, project leaders can have confidence that crews with the right skills and proper clearance are working on the project, clarity on how much time is actually required to complete a job, and information on what zones of the site crews are working.
BuildingPoint Pacific is here to support your Jobsite security needs. We can help by answering questions and assisting you in leveraging CrewSight to maximize remote monitoring to the fullest extent. For more information please contact us at mailto:rwintz@BuildingPointPacific.com or 619-850-7683.
Trimble CrewSight Labor Tracking System