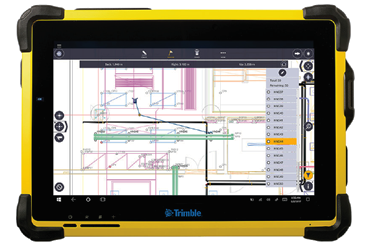 Trimble T10 Tablet
Trimble brings the advantages of fast computing power and a large screen to the field with the Trimble® T10 tablet. The Trimble T10 is a powerful, rugged device created for building construction fieldwork. At the same time it supports demanding desktop applications to provide a single-device solution for efficient data processing on the job.
Designed to work all day even in difficult environments and conditions, the Trimble T10 enables contractors in a variety of applications to efficiently and reliably collect and process data for analysis and visualization on a significantly larger display using the latest Windows® 10 operating system.
Fast and Powerful Computer Processing
The fast and powerful processing engine of the Trimble T10 lets you carry out challenging field applications without difficulty. Rapid processing of points, PDF's and models as well as collected field data ensures the T10 won't slow you down. Save time and money and be more productive by having your field work completed quickly with a high degree of detail, increasing the value of your data.
Features and Benefits
 
Large 10.1", High Resolution Display
Full Windows Operating System
IP65-rated Trimble T10 with military-grade MIL-STD- 810G Ruggedness Certification
High-Sensitivity GNSS/SBAS Receiver and Antenna
Wi-Fi 802.11ac, 2.4 GHz/5GHz Dual-Band
User Replaceable Battery, Hot Swappable
First Look-Trimble T10 Workhorse Tablet