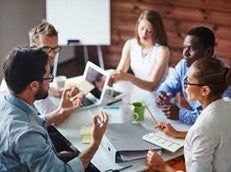 Greetings and thank you for taking a moment to check out our blog!
Over the last few years, I have been privileged to work as a member of Building Point Pacific's construction scheduling services and training team. During this time, I have had a variety of rewarding experiences, but nothing seems to top the sense of satisfaction I found in teaching the Introduction to Scheduling with Primavera P6 workshops.
Having an Effect
Personally, I have always found work the most fulfilling when I feel like I have had a substantial effect. This source of gratification has been universal throughout my work history. I have managed to find it in a variety of project deliverables, from a client's direct gratitude, and indirectly from achieving project goals by assisting a coworker. One of the most gratifying things for me in my role at Building Point Pacific has been when I have had students start my class with little to no understanding of P6, and over the course of two days guided them to a place where they are comfortable navigating the program and feel confident enough to return to their team and start working directly with schedules as their role(s) may demand.
Our Intro to P6 workshops have two full days of instruction (~7.5 hours x 2 = 15 hours). We manage to get every student to a functional level (from zero-sixty MPH!) with P6 by the end of the workshop. If for some reason we aren't able to bring everyone to the finish line together, we are able to take the extra time with individuals to bring them up to speed.
Who Takes This Class?
People attending our workshops range widely; some job titles have included Project Engineers, Project Managers (Jr/Sr), VPs, Construction Managers, and Superintendents. People have also attended our classes who are just seeking to enrich themselves and add another badge to their professional development journey. All levels of proficiency are welcome in our Intro to P6 classes.
In P6, Sometimes Working Smarter = Working Faster
Of the many fundamental tools we cover within the workshop, even experienced users find many of the tips and tricks covered in our demonstration very useful. Some examples: a quick way to change the view of the Gantt chart and filling in repetitive information with the 'Fill Down' feature.
Teaching is Often the Best Way to Learn
Although all the topics covered in the class are introductory level and we frequently have attendees with more extensive P6 experience, I have often found that this helps everyone gain a deeper understanding of Primavera P6 as a tool and how to better use it to accomplish their professional goals.
Virtual Classroom vs. In-Person Classes
Like many people, I prefer to teach the classes in person, but (even before the pandemic) we offer the course on a remote-instruction basis.
Please contact us for a quote or more information on our Intro to Scheduling with Primavera P6 courses or other training opportunities here at Building Point Pacific. We look forward to working with you!